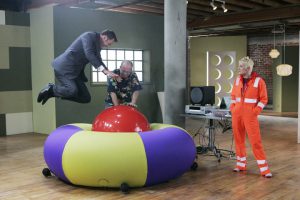 DISCOVERING THE GOOD, THE BAD… AND THE BRILLIANT
Peter's production company, Peter Jones TV Ltd, worked with Simon Cowell's, SiCo and FreeMantle Media, to create a new business reality show, American Inventor, for the USA's largest television network, ABC. It was commissioned for two series and also aired in the UK on Virgin.
Peter and his three fellow judges, who included George Foreman, former two-time World Heavyweight boxing champion and inventor of his eponymous fat-reducing grilling machine, travelled the length and breadth of the United States in search of an outstanding inventor. The basic rule was that the invention must be something that could be mass produced and sold to consumers in a retail outlet.
The prize was $1million and the opportunity to market the winning product worldwide. As Peter said: "We've seen the good, the bad and the ugly – but most of all that great American spirit of ingenuity and innovation."