Tennis Holiday Experiences
Peter Jones headed back to his roots when, for a £25,000 investment, he fought against the 4 other Dragons to secure a 20% stake in the unique tennis holiday experience, known as Active Away.
Having trained as a tennis coach in his teenage years, Peter has a strong connection with, and passion for, the game and these factors clearly made him the perfect investor for the business founded by Steve Davies and Matt Allen.
The concept of the business first came to Steve Davies 10 years ago when he took an enthusiastic small group from his club away on a tennis holiday, since then the business has grown in to a successful and reputable holiday company providing hosted tennis holidays at luxury 4 and 5 star holiday resorts all around the world as well as UK based tennis clinics and two day tennis camps for tennis enthusiasts who want that holiday experience without going abroad!
Active Away is an enjoyable holiday experience for individuals, couples and families at beginner, intermediate and advanced playing levels. It values itself on the high quality of coaching available, with Active Away professionals delivering their unique double based coaching to all guests.
Steve and Matt want to develop and expand the Active Away brand and have begun this process through the organisation of Corporate Tennis events. The aim of these events is for companies to invite their clients and staff to a fun, active tennis day out. They are confident that with the help of Peter's investment this new concept will be as great a success as golf days which are so widely popular among corporate environments. It is in no doubt that this new, dynamic experience will prove extremely popular in the tennis field.
Steve and Matt are overjoyed that Peter has invested as, to them, it seems a match made in heaven given Peter's love of the game and his previous experience working in a similar capacity in terms of coaching.
A business close to Peter's heart.
Visit activeaway.com for more information.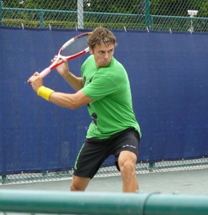 "I am so pleased and excited to be involved with Active Away as tennis is a passion of mine. These guys provide an amazing experience with over 85% of their clients repeat booking and I see Active Away becoming a major brand in the travel sector. Away from the holidays, the corporate side of the business is something which is currently untapped and, with Steve and Matts' passion and expertise, will undoubtedly develop into a strong business"
Peter Jones CBE