In 2015 Merseyside brother-sister duo, Graeme and Fiona Fraser-Bell, secured investment from Peter Jones for a stake in their guess-the-accent party game business, Accentuate Games Ltd.
Fiona and Graeme grew up on the Wirral and subsequently lived in many different corners of the UK and around the world. Graeme's fascination with accents stems from his extensive travels, yet the idea for Accentuate – a party game which aims to mortify players into fits of giggles – was born over dinner in 2009 when Fiona told a French-themed story in an attempted Gallic accent, to the great amusement of everyone around the table.
After polishing and perfecting the game over the next couple of years, the siblings play-tested the game on friends and family, making tweaks and listening to feedback. They soon realised they could combine their formidable sales, marketing and commercial skills, gathered over three decades in a range of business roles, with their love of games and laughter, to produce and market a unique party game. After five years honing the game-play, Accentuate hit UK shelves in 2014. It was quickly stocked by the popular site, Firebox.com, and High Street retail giant, John Lewis, as well as a number of independent toy shops across the country. The duo with Graeme's wife Daphne, who also has a share-holding in the company, now hope that Peter Jones' influence and involvement will see many more High Street doors opening for them.
Constantly seeking ways to grow the brand and keep the game fresh, this year saw Graeme and Fiona launch the first overseas edition of the game in the USA – just as Hollywood stars Mark Wahlberg and Seth MacFarlane were heard enjoying the game live on Capital FM Radio – and they've just unveiled the very first Accentuate expansion pack, 'Film Quotes'. Now with Peter Jones' backing, there are plans to roll out further expansion packs and regionalised versions of the game for new global territories.
The classic Accentuate game boasts a simple yet humiliating premise: players repeat a quotation in a randomly selected accent, and teammates have to guess the accent they're trying to mimic. The worse the accent attempts are, the more hilarious the game becomes as players struggle to separate their Geordie from their German, their Scouse from their Spanish. Featuring 30 different drawls from around the globe – a third of which are home-grown British dialects – Accentuate players are under blush-inducing pressure to perform, with just thirty seconds to utter one of the 90 quotations in their allotted accent.
The distinctive black and white Accentuate box comes complete with 90 Accent Cards featuring 30 different accents from around the globe (each repeated three times), 90 different Quotation Cards, a timer and a dice to select game-play options. Its compact size makes it ideal for livening up nights out and visits to family and friends. Accentuate, RRP £19.99 is for four or more players aged 16+.
Visit accentuategames.com for more information.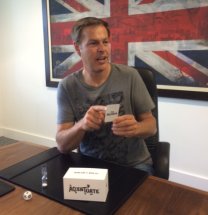 "The Den can be a pretty serious and intimidating place so when Fiona and Graeme managed to make us all relax and laugh then I knew they were on to something. Like all good games Accentuate is simple to understand but great fun to play, I was particularly interested when Graeme explained how the game could easily be adapted to suit any territory around the world. I'm looking forward to helping to make Accentuate the "must have" game at Christmas."
Peter Jones CBE