Clothes that mean business
Beth Chilton and Sarah Sleightholm are two experienced professionals in the fashion business who received investment from Peter and Deborah to help build their womenswear brands Alter Fashion and Hope & Ivy. The brands are on available on the Asos and Next websites and they are already recording excellent sales numbers.
Alter Fashion is a collection of feminine pieces that capture the essence of 9am-9pm style offering style and elegance through the working day and into the evening.
Hope & Ivy is a contemporary brand epitomised by beautiful embroidery and hand-drawn prints, Hope & Ivy pieces exude confidence and femininity with a bohemian edge. All of the embroideries and prints in the collection have been hand-crafted and overseen by Sarah using artisan techniques, resulting in a unique collection of dresses, jumpsuits and separates crafted with love.
Visit hopeandivy.co.uk for more information.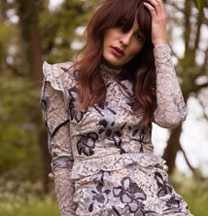 "Their sales figures are remarkable for a business that only started trading 10 months ago; especially when you consider how fiercely competitive the fashion industry is. In fact it's one of the most exciting revenue growth stories we've seen this series"
Peter Jones CBE