PETER JONES BITES AT THE CHANCE TO BRING KOREAN CUISINE TO THE NATION
Peter jumped at the chance to invest in Yogiyo, the UK's first range of authentic Korean sauces, after Company Founders, Ben Ansah and Sue Youn, wowed him with their cooking and dipping sauces, which celebrate the boldest and most popular flavours in Korean cooking. After a bidding war in the Den, Peter secured a 33% share of the business for a £50,000 investment.
Following the recording negotiations began with the major retailers and Sainsbury's have confirmed a deal to launch the brand. In a move that echoes the Dragons' Den biggest success story to date, Levi Roots and his Reggae Reggae Sauce, the brand not only gained investment but Ben and Sue have also landed a nationwide deal to launch in over 450 stores from October 2015.
Ben Ansah, Co-Founder, Yogiyo, says, "It's been a whirlwind experience taking our recipes, all inspired by Sue Youn's mum's home-cooking, from our street food stall to the Den and soon to the nation. The interest in Korean food has started to gain pace globally and our sauces offer people an easy way to bring the biggest flavours of Korea to their own kitchens. Peter Jones was the natural partner for us and the experience he has brought to the brand since the show has been invaluable. We can't wait for the range to hit Sainsbury's shelves."
Peter Jones, Dragons' Den Investor and Entrepreneur, comments, "What appealed to me most with Yogiyo was how Ben and Sue have taken their genuine passion and talent for the food from their heritage and turned it into a credible and marketable brand that has come along exactly at the right time for the UK. I truly believe this is going to be a great success."
The three-strong range includes a cooking and dipping sauce based on Gochu Jang, a fermented chilli paste unique to South Korea and one of the cornerstone ingredients of the country's cuisine and Galbi, a classic meat marinade, whose sweet, umami flavour is one of the best known and most loved in Korean cuisine.
Visit yogiyo.co for more information.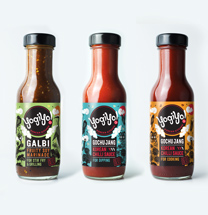 "I'm confident that Korean food will be the next emerging cuisine and the Yogiyo brand can be at the forefront of that trend. The products look and taste great both Ben & Sue have the necessary passion and a Sainsbury's listing is now the icing on the cake"