Paul Turner came on Dragons' Den to present his range of award winning sausages and to seek investment and guidance to help him launch the range nationally. Paul is a traditional family butcher, as was his father and grandfather so he knows all about making a great quality sausage. His products have won numerous national awards but he has not been able to get the level of distribution that would allow a wide audience to sample his range.
Paul said "It has been frustrating to enter and win so many awards but not to be able to get our product into the major retailers. Our sausages are made in the same way that my father and grandfather made them and our customers are always telling me that they are the best on the market but without investment and support I've not been able to build on our local success. Now with Peter's backing I'm looking forward to competing with the major high street brands."
The tense negotiation saw Peter invest £80,000 for a third share in the business.
Visit alfturner.com for the latest information.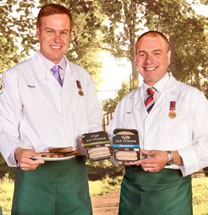 "This investment had everything that I look for; a passionate individual, a wonderful product that is a little different from its rivals and a great back story of a traditional family butcher taking on and beating the competition. The association with such a wonderful charity as Help for Heroes just completes the picture."
Peter Jones