On Sunday August 25th Richard Ernest, Managing Director of RemPods Ltd., stepped into the Dragons' Den with his innovative pop up reminiscence rooms and received an investment of £100,000 from Peter Jones and Deborah Meaden for a 45% share in his company.
The reminiscence rooms or pods help to transform any care space into a therapeutic and calming environment. Designed in retro themes each pod is filled with authentic furniture and memorabilia from a bygone age which allow patients with dementia to relax and feel more comfortable.
The pods are the creation of the Stroud based entrepreneur and are already in use in more than 40 NHS care homes, day centres and care charities across the UK. Hospitals who already use the pods say they have been overwhelmed by the success of the concept. The benefits include:
Pods offer a naturally calming and therapeutic experience and help older people in care, especially those with dementia to tap more easily into memories from their past giving them grounding & comfort.
Offer large cost savings by reducing Alzheimer's patients dependence on anti-psychotic drugs.
Create a better understanding between care staff and residents.
After the show Richard said "The process of going on the Den was overwhelming it is one of the scariest things I've ever done but I'm delighted to have received the investment and I'm looking forward to working with Peter and Deborah to develop my business and help the more than 700,000 people in the UK who suffer from dementia"
Visit rempods.co.uk for more information.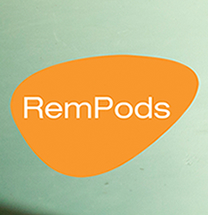 "Dementia and Alzheimer's are growing problems for the UK and I'm delighted to be involved in a business that offers assistance to the patients suffering from these terrible diseases and the carers who have the responsibility of looking after them. Deborah and I were very impressed with Richard who we believe has the potential to build a successful business with a social conscience."