On Sunday 11th August 2013, the BBC aired the first episode of Dragons' Den series 11. When Ross Mendham, Managing Director of Bare Naked Foods, stepped into the Den with his range of low-carb noodles, he had no idea if he would impress the BBC's expert panel including Peter Jones. At the end of an emotional pitch Ross managed to secure an investment from Peter of £60,000 for 50% of the business which will be the catalyst needed to launch the brand and secure retail distribution.
An ex body builder, Ross Mendham had spent years maintaining a restrictive, carb-free diet while craving a filling, healthy alternative. Like many business success stories, the moment of inspiration for Ross came when he realised there was nothing suitable on the market but he knew there would be thousands of other health conscious men and women looking for low carb yet filling food to cook at home. Ross developed Bare Naked Foods after his research identified the Asian-grown Konjac plant; a miracle plant low in carbohydrates, sugar and calories that can be used to produce noodles.
"I was extremely nervous standing in front of the Dragons' Den panel, presenting Bare Naked Noodles after working so hard to build the business that we started in 2011. It was great to get the expert business insight of the panel and now I'm looking forward to helping more health conscious people discover our fantastic range of noodles", Ross Mendham said.
Bare Naked Noodles can be used as a replacement to carbohydrates in a variety of dishes including pastas, stir-fries and soups. Simply heat the noodles to prepare a low-carb, satisfying meal in minutes.
Bare Naked noodles are available to buy in Tesco, Morrisons, Waitrose, Sainsburys and many independent outlets www.barenakedfoods.co.uk.
Visit barenakedfoods.co.uk for more information.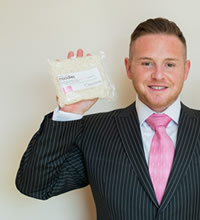 "Entrepreneurs often start their own business when they identify a gap for a product or service that they would like to use. That's exactly what happened with Ross and I'm sure that a lot of other people will be interested in noodles that are low in carbohydrate, fat and calories. Also the brand's positioning of food with all of the bad bits taken out offers a great platform to build a portfolio of other products. I'm looking forward to working with Ross to make that a reality"
Peter Jones CBE