Youngest entrepreneur scores Dragons' Den Success
In the opening episode of Series 14 Peter, Deborah and Touker invested in 15 year old Arminder Dhillon and his incredible cleaning product called the 'Boot Buddy'.
The idea originally came to Arminder and his brother Gurminder after being told by their mum not to bring mud into the house on their dirty football boots. As a result, one day after football training Arminder took a water bottle, plastic knife and a washing up brush, put them all together and the Boot Buddy was born.
The Boot Buddy allows the user to easily scrub away mud from dirty footwear with the firm bristles of the brush, combined with the water which comes from the central body of the design. It doesn't stop there the design also has a built-in scraper which makes cleaning your footwear even easier.
The Boot Buddy has taken boot cleaning to the next level due to its compact and unique design. The product comes in high quality packaging and in addition saves water because the Boot Buddy uses a lot less water than when cleaning boots under a hosepipe. This product allows you to have fun while doing something that would otherwise be a chore.
At just 15 Arminder shows that age is no barrier to business when you have a good idea and the passion to follow it through.
Visit www.bootbuddy.com for more information.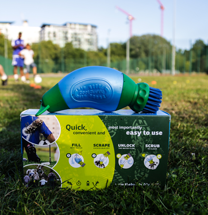 "Arminder is a fantastic example to young entrepreneurs. I am delighted to be supporting him and his product, I have high hopes for the Boot Buddy and I know that with the right financial guidance we can build this business together"
Peter Jones CBE